Lawmakers, Including Sponsor, Not Pleased With Claims Bill For Young Special Needs Rape Victim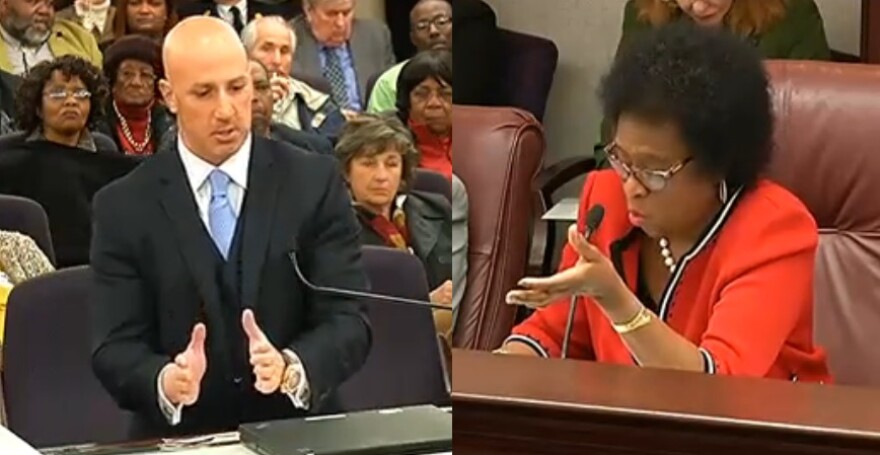 A claims bill to further compensate a young special needs rape victim has passed its first Senate committee. But, not without some controversy.
Sen. Joseph Abruzzo (D-Boynton Beach) is the bill's Senate sponsor.
"This bill will provide relief for a young constituent who was sexually assaulted, while being a passenger on a Palm Beach county school bus," he said. "The settlement of $600,000 has been reached between both parties to compensate for injuries and damages, sustained as a result of negligence on behalf of employees at the Palm Beach County school district."
In 2007, the victim—three years old at the time—who has a significant speech and language disorder had boarded the school bus.
That day, a 15-year-old boy—diagnosed with severe behavioral and emotional disorders—boarded the bus as well. After moving from his assigned seat, he could be seen on video molesting the young girl and later confessed.
According to the staff analysis, a bus attendant—whose job is to maintain order—had also witnessed parts of the molestation, but allowed the girl to stay near the boy because she, in her words, "panicked."
While officials with the Palm Beach school district acknowledged the molestation, they claimed it had no lasting effects because of the young girl's mental status.
Still, weighing the facts of the case, a jury awarded the victim and her family $1.7 million.
The amount owed is now $1.6 million, after the Palm Beach school district paid the required $100,000. Under current law, a claims bill is need to pay the rest.
But, Senate Democratic Leader Arthenia Joyner (D-Tampa) says she notices Abruzzo's bill has a considerably less amount.
"I thought there was a stipulation of $1.6 million," she stated. "I want to know why it's being reduced to $600,000?"
When Abruzzo told her it was to get the claims bill passed, Joyner was not satisfied with that answer.
"The settlement is grossly unfair," said Joyner. "I mean someone up here is utilizing their leverage to give this young person who was sexually assaulted on a school bus at an amount less than what was agreed on. This is just unacceptable."
Still, Joyner says despite her reservations, she'll support the bill.
"I do understand that to not support this then would deny her even this, what I would consider meager sum, in comparison to what the verdict was," she added. "But, it is with reservation and being very distraught about this, considering what happened and the facts as they are enumerated in the bill is just completely inconsistent with what justice should be, and that is what the jury awarded."
And, Sen. Miguel Diaz de la Portilla (R-Miami) says he sees both sides. He chairs the Senate Judiciary Committee, the bill's first Senate hearing.
"I'd just like to briefly add that I agree with Senator Joyner, but in this process, we have to trust our colleagues that they know what is best and the bills they sponsor in terms of getting it through the finish line," he said. "And, so, with that, I'm going to be supporting the bill as amended."
And, as for Abruzzo, he says he takes Joyner's concerns very seriously.
"Senator Joyner, Leader, I cannot agree with you more," he said. "I will put it out right away that obviously, this bill needs to move through the process and I am completely open to an amendment somewhere down the road to give this individual the full amount of money awarded. This is a three year old girl, who was molested on a school bus. And, I think that Palm Beach County—knowing how good the school board is in Palm Beach County, knowing the administration in Palm Beach County—should step up to the plate and say, 'this was wrong, it was our negligence, this went through the judicial branch, we should award this person.'"
And, the measure passed 9-1 with Sen. Jeremy Ring (D-Margate) as the lone dissenting vote. It has two more committee stops in the Senate, and has not yet had a hearing in the House.
For more news updates, follow Sascha Cordner on Twitter: @SaschaCordner.
Editor's Note: Headline changed for clarity.