Budget Notebook: Road Proves Breezy And 'Bumpy' For Spending Conferences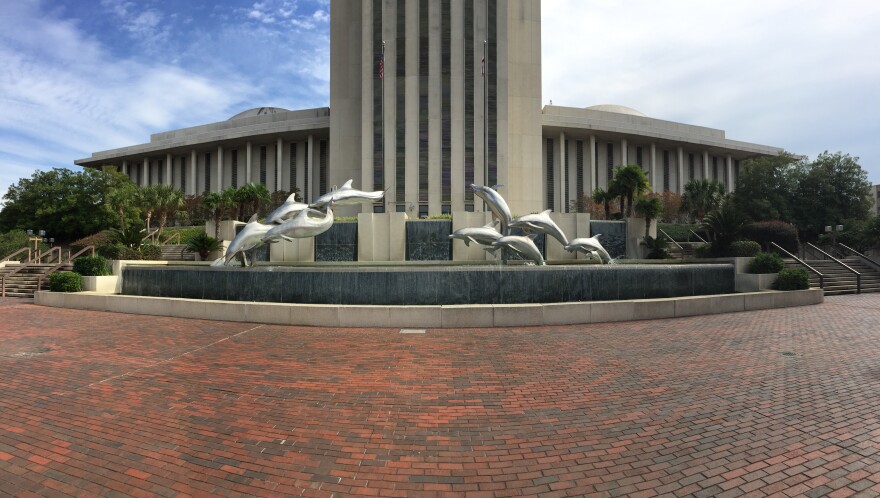 Florida's budget for the coming fiscal year is now in the hands of the House and Senate budget chiefs. They're planning to settle as many differences as they can and 'bump' the rest to the presiding officers by noon Sunday.
UPDATE 08:55 pm:
The At-Large budget committee is putting the PreK-12 Education budget to bed. Saturday evening, the panel took up bump lists for Public Education Capital Outlay, or PECO, funding as well as PreK-12 education. After a brief recess, Senate budget chief Jack Latvala (R-Clearwater) accepted the House offer on PreK-12 funding. His House counterpart Carlos Trujillo (R-Miami) is reviewing the Senate offer on PECO dollars.
At its current rate, the panel will have a difficult time wading through all nine budget silos ahead of the noon Sunday deadline for handing the budget off to presiding officers.
"You know, we always push into the presiding officers," Latvala says, "every year since I've been here, presiding officers get involved."
And Latvala backs up Sen. Rob Bradley's (R-Fleming Island) decision to bump the entire environment and natural resources budget after House offers kept shifting.
"I've been in his shoes, and I've had that same situation," Latvala says. "We expect to be dealt with in good faith. We expect to have real offers that have some movement to them. And he didn't really think that he got that today, and I support him on that."
"I asked him if he threw anything or he yelled—that's the only thing I would've done if I had been in his position."
But after the environmental hearing, House chair Rep. Ben Albritton (R-Bartow) chalks up the changing offers to part of the process.
"So why did we start at $30 [million]?" Albritton says about the House's initial offer for beaches. "I would've loved to have started at a higher number, but the allocation that I had plus making sure other priorities were funded was—you know, start there. When I was given the opportunity through this conferencing process to raise that number I gladly did."
----------
Throughout the morning Saturday, subcommittees gathered to finish off their initial drafts in time for a noon deadline of their own—more than a few didn't make it. Each panel is charged with trading offers to find as much common ground as possible. Whatever differences remain get bumped to the next set of lawmakers up the chain. Next up are the appropriations chairs Sen. Jack Latvala (R-Clearwater) and Rep. Carlos Trujillo (R-Miami).
The proposals in the Criminal and Civil Justice subcommittee started about $70 million apart. But House chair Rep. Bill Hager (R-Deltona) sounds an optimistic tone Saturday morning.
"We've come up on some issues and I think we'll—following our next meeting which is probably going to be before noon—we're going to have 90-95 percent resolved," Hager says.
The committee is standing firm on its decision to cut positions from prosecutor Aramis Ayala's office, but a Senate proposal funds nine positions focused on human trafficking.
Senate President Joe Negron will be happy to see progress made on the higher education panel. Ahead of session, the Stuart Republican wanted to more money for Bright Futures scholars, block tuition and more money to attract faculty. House and Senate negotiators agreed to all three.
But the sides remain divided when it comes to college and university foundations—known as direct support organizations. The House is pushing for the groups to disclose more about their finances and a prohibition on those dollars covering employee salaries.
Chairs in the Health and Human Services subcommittee are putting an optimistic spin on their work as well, but many of the biggest issues remain unresolved.
The chambers agree on cutting roughly $650 million dollars in Medicaid funding for hospitals, but disagree on how to structure the reduction. They're also at odds when it comes to personal needs allowances. Florida currently gives just over $100 a month to cover nursing home patients' personal expenditures for things like getting a haircut or a meal out. The Senate wants to leave the dollar amount unchanged, but the House wants to drop it to $70.
"I know the federal minimum is $30, and that the highest we used to be is $105," Rep. Jason Brodeur (R-Sanford) says. "Everybody is kind of in the middle, everyone's centering around $50, and so even at $70 that puts us at 7th [highest in the nation]."
Senate chair Anitere Flores (R-Miami) also took issue with phrasing regarding LIP, or low income pool, funding. Those dollars help prop up hospitals that serve the poor, and the two sides agree on letting state health regulators come up with a plan for administering the $1.5 billion available for the coming fiscal year.
It's an 'or' where Flores is tripping up. The House wants one presiding officer or the other to be able to reject a plan, but the Senate is pushing for that 'or' to be an 'and.'
"Maybe it was just grammatical," Flores offered as Brodeur demurred on defending the House position.
Meanwhile the two sides are butting heads more publicly on the Environmental and Natural Resources committee. House drafters are pushing to scrap funding for projects like the St. Johns River—an issue near and dear to Senate chair Rob Bradley (R-Fleming Island).
But Bradley isn't just upset about a backyard priority being zeroed out—he's frustrated with the House's inconsistency.
On local parks—line 265—the House was at $5.4 million. We met them in order to close it out, and they dropped the number. So that's now no longer able to be closed out," Bradley says.
"And then at 270, the House started at zero—Florida Communities Trust—we meet them at zero," Bradley continues. "They then went to $15 [million]. We met them at $15 [million]. Now they're down to $10 [million]."
Later, Bradley goes on, "Everybody's doing their best, and I get that and I understand that. But we've now spent two days on what in essence is a fool's errand."
Rather than move forward with the line items where the House and Senate earlier agreed, Bradley went back to square one—bumping the entire environmental budget to the appropriations chairs.