A Year After Hurricane Michael State and Local Leaders Talk Recovery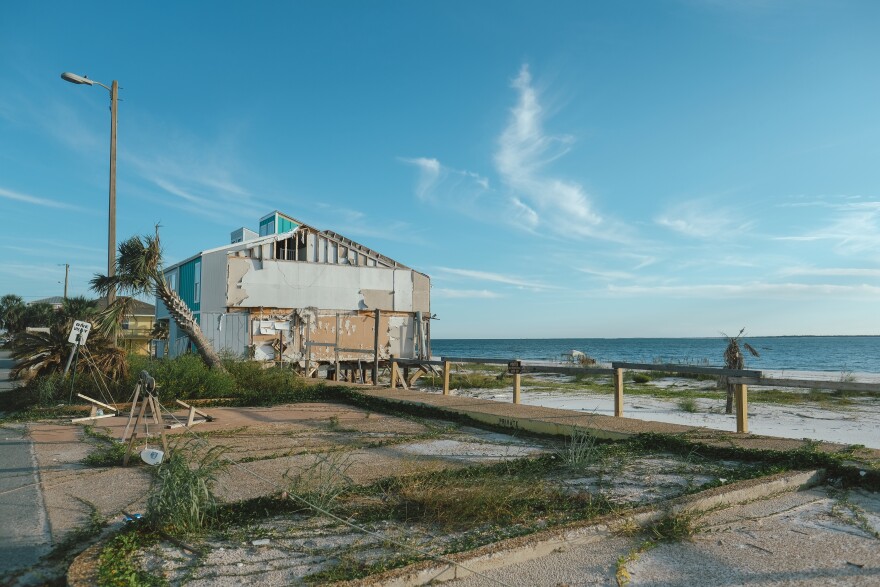 Just a year after Category 5 Hurricane Michael swept through Florida's panhandle, the residents in the area are still feeling the aftermath.
Michael wiped through the city of Mexico Beach, ruining homes and businesses in its path. Florida Public Radio Emergency Network Meteorologist, Jeff Huffman, described the hurricane as one of the most historic storms the Panhandle has seen.
"We don't have very many of these [Category 5 hurricanes] in history," Huffman says. "But it's a reminder that the worst can still happen on land and a coastline."
"It's a reminder that the worst can still happen on land, and a coastline."
Mexico Beach Mayor, Al Cathey says nearly 75% of his city was in ruin, leaving residents scared and unsure of what would come next.Uninsured homeowners lost everything in the storm. Cathey says with insurance carriers giving homeowners the run around and FEMA working slowly to provide money to help reconstruct the city, it could take a while for people to settle back into their lives.
However, through the contributions of residents and non-profit organizations, Cathey says things are starting to get better.
"Mexico beach is going to recover and we're going to do whatever it takes to get our city back," Cathey says. "It may be slowed up, but the recovery process is ongoing [and] I'm very proud of our community in the last year, we've come a long way."
Hurricane Michael not only left parts of North Florida in bad shape physically, it also put a strain on it, financially. With millions of dollars in repairs, it has been hard for the cities like Mexico Beach to keep up with recovery payments.
Rep. Jay Trumbull (R-Panama City), says there was about $60 million worth of debris bills in the city but only a $3 million dollar budget.
However, Mayor Cathey remains hopeful that in the next few days, the city will receive $20 million from the U.S. government to help with reconstruction.
"We're supposed to get that money for debris pick up this week. I'm hoping that we see it. We need it desperately bad." Mexico Beach is in Bay County. It has received about 70% of its hurricane reimbursement requests from the federal government. But, cities within are still filing paperwork.
Cathey, Huffman and Trumball were guests on Thursday's Perspectives program, broadcast from Mexico beach.