Research Shows Mixed Results When Governments Consolidate And Come Together
The Tallahassee Chamber of Commerce continues examining whether consolidating city and county services would be a good fit for the area. But it's efforts have drawn pushback from some local officials—city mayor Andrew Gillum and county commissioner Bill Proctor most notably. But what's the big deal?
It started with a trip last year to Nashville, when the Tallahassee Chamber of Commerce and 80 people journeyed to the Music City to see how it does business.
"We had the opportunity to ask questions about what were the things you did in your community that changed Nashville and allowed it to grow, prosper and attract businesses and retain talent. And one of the individuals said it was when we consolidated our government," said Chamber board Chairwoman Heidi Otway.
"And in the room, we all kind of looked around and said, "tell us more."
The Financial Case
In an effort to learn more, the Chamber commissioned a study on consolidation. In January results from that study found there could be cost savings if done right. But that's a big "if" says Florida State University political scientist and chamber consolidation group member, Carol Weissert.
"Unfortunately, it's not a lot of money," she said. "What happens a lot of times is…you end up keeping a lot of the employees because that's part of the deal so you don't save a lot of money in the beginning."
Weissert notes the conversation around consolidation is timely, giving the fiscal problems municipalities across the state and country are beginning to face -- like how to balance budgets when the revenue isn't there, anymore.
"The legislature is slowly but surely deleting a lot of the local governments ability to raise taxes and to have that end—taxpayers don't want to pay more taxes so I think the fiscal issue is an important one."
The Political Case
"Consolidation is generally promoted as a good government measure," says Aaron Renn, a research fellow with the Manhattan Institute. "It's often touted as creating efficiencies…and smaller cities advocate it as a way to put themselves on the map and set the stage for big growth."
"You burn up a lot of regional leadership, time and attention on this."
Renn studies the impacts of consolidated governments.
"People will point to a Nashville or an Indianapolis…yet what we see, one, [is that] merger is always politically controversial and so you burn up a lot of regional leadership, time and attention on this."
Recently, Leon County Commissioner Bill Proctor accused the Tallahassee Chamber of trying to stage a power grab. And Tallahassee Mayor Andrew Gillum says he's not interested in the Chamber's plans.
"Consolidation as a political tool is not of interest to me. And I'd like to give this more credit, but I'm just not convinced there's other rationale for this consolidation conversation aside from a political one."
Renn says Gillum and Proctor's concerns are backed by data. He cites the city of Louisville as an example of the intersection of politics and population.
"The county population was far higher than the city population. When you merged them together you ended up with a case where the suburban voters have a majority of the electoral power in the combined entity," he said. "This is one to look at. What is the population of the city and suburbs? That alone will tell you where there's going to be a balance of power."
According to recent census numbers, there are about 189,000 residents in Tallahassee, and 289,000 in Leon County.
"This is the first time I've heard the work we're doing framed that way and this is not the case," said the Chamber's Otway, refuting claims the Chamber's work is politically motivated.
The Business Case
She says the goal is figuring out whether the area can become more attractive "and become a more welcoming place for businesses to startup grow and expand if we had one government entity instead of two."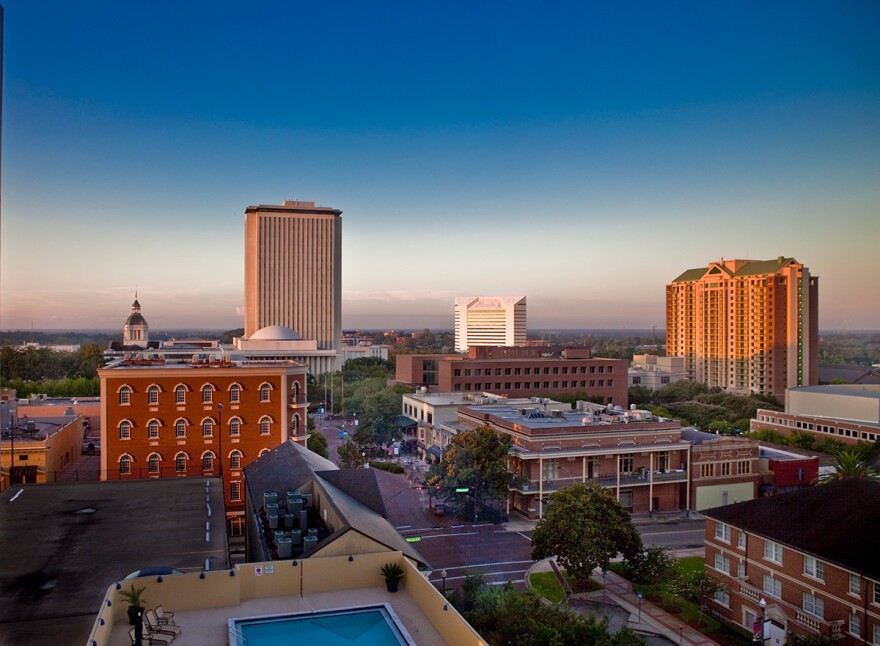 Yet she also notes the scandals and allegations of cronyism that have hit city officials in the past year it's important to at least consider the option, and the chamber is starting the process.
"We don't know what the outcome is going to be. But we can't let the city of Tallahassee continue to be the same as it is now. The status quo isn't going to move our future forward. We need change. Change isn't easy. Change is hard."
"I think the city is doing a good job," said County Commission Chairman Nick Maddox. He was among the 80 people on the trip to Nashville last year. " I think the county is doing a good job. And I think what's become of this city is a reflection of the job we're doing."
Maddox is staying neutral on the consolidation issue. Proposals to consolidate city and county governments have failed in the past, but Maddox notes, times have changed. And the last time voters were asked about it was more than 20 years ago. Plus, Maddox said, the final decision doesn't rest with the city or county commission.
"It's about finding out what the facts are. How much it will cost, how much it will save us in the end, and it comes down to whether the citizens want it."
And that is still up for debate.