New Hotel Opening in City's Hot Hub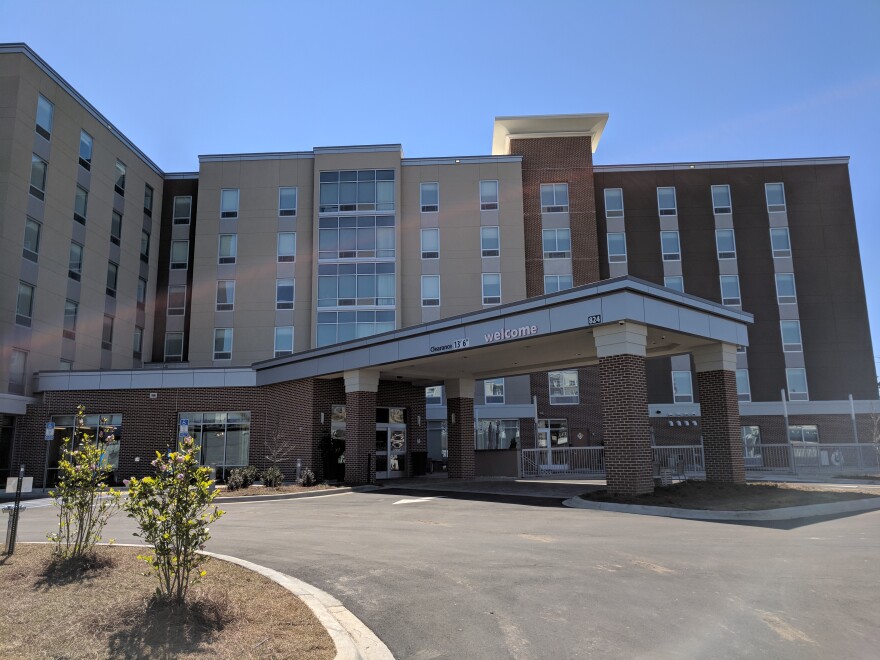 The exploding development along and near Tallahassee's Gaines Street corridor isn't limited to student rentals. A shiny new hotel will soon open a block away on Railroad Avenue.
The hotel is the new Hampton Inn and Suites Tallahassee. Its general manager is Bo Schmitz. You may remember him from his years as the head guy at the Four Points Sheraton across town.
"This is my 25th year and this is the first time I've been the general manager of a Hampton Inn and Suites and I've been envious of this brand my whole career," he exclaimed, sitting in the airy dining area of the six-story hotel.
Hampton Inns began life as a budget offshoot of the Holiday Inn chain back in 1984. Fifteen years later, the brand was acquired by the Hilton Hotel people who took the properties decidedly more upscale. Schmitz said that was one reason he decided to make the jump, but there was another compelling factor.
"Then when I saw where the hotel was going to be located in the hotbed, the epicenter between Florida State, FAMU and the Capitol, it was obvious to me that this hotel was going to be a slam-dunk success."
Schmitz believes the 124 room property could simply not be in a better place.
"It's just so convenient to everything and we're going to have a free airport shuttle and a free downtown shuttle and we've got the bike share program that people can take advantage of and we're literally within walking distance of Railroad Square Art Park and DOMI Station and all or our friendly neighbors in All Saints District and Collegetown, so it's a great location," he said.
Still, the new Hampton Inn and Suites Tallahassee isn't the only new hotel soon to be coming on line. More are under construction, including a few along Apalachee Parkway between downtown and Capital Circle. And there are still plans to convert the long-abandoned former Ramada at North Monroe and I-10 into a Days Inn at some point. All this means more rooms in the market, but Schmitz isn't worried.
"There's definitely growth here and more competition is always good. I've always welcomed competition. But there is a breaking point, though and I think at some point that will start shifting in the other direction where there will be too many rooms, but I think there definitely is a need for more downtown rooms," he said, adding this was especially true in an area near downtown that has a unique feel all its own. "There's a lot of excitement in this little pocket and just a cool vibe! People take pride in this area and that's cool to see and our neighbors have been great so far and we're looking to be good neighbors as we move forward."
Schmitz said the new Hampton Inn and Suites on Railroad Avenue should be fully open for guests on April 5th.