Officer-involved Shooting Leaves Tallahassee Resident Dead
Update May 28, 4:55 p.m.
In an update on facebook this afternoon, Tallahassee police have identified the person killed in Wednesday's officer-involved shooting as 38-year-old Tony McDade.
In reports released yesterday, officers identified the person shot as a woman. That identification was reflected in WFSU's reporting.
More information is now becoming available that indicates McDade is gender non-conforming. Neighbors and friends referred to McDade using she/her pronouns. In videos published on social media, McDade sometimes refers to themselves using she/her pronouns and sometimes uses he/him pronouns. One of their social media accounts indicates McDade was transitioning and living as a transgender-masculine person.
Update 4:05 p.m.
Two people are dead after a stabbing homicide and an officer-involved shooting on Tallahassee's Southside this morning. The stabbing, according to police, took place on Saxon Street at about 10:45 a.m. and one adult male was killed. The man has not been identified.
Tallahassee Police Chief Lawrence Revell briefed reporters at the scene.
"The suspect from that stabbing fled on foot, and a description was provided to responding officers. The suspect description that was broadcast was a black female, (wearing) all black, bald, armed with a pistol and a knife," Revell said.
Revell says the suspect in the stabbing, a black woman, was shot in the Leon Arms apartment complex by a TPD officer. As Revell was speaking to media, he confirmed the woman had died. She has not yet been identified by TPD.
"At 10:59 a.m., the suspect was located here at 2500 Holton Street," Revell explained. "And our officer calls out 'shots fired' and said over the radio that the suspect had pointed the gun at them, at the officer."
The officer who shot the woman has not been identified by the agency, citing Marsy's Law, and has been placed on paid administrative leave.
"The suspect was in possession of a handgun, and the bloody knife was found at the scene of the stabbing," Revell said. "At 11:36 today, the suspect from the officer-involved shooting passed away at a local hospital as well."
This marks the third officer-involved shooting for TPD since Revell took the helm in December.
Revell says he doesn't know if body camera footage was taken. If it was, he says, it won't be made public until after a grand jury hearing. The police chief also told reporters he didn't know how many shots were fired.
Clifford Butler, an eyewitness who lives at Leon Arms, says he heard seven or eight shots.
"I walked down this way, as soon as I get around this curve, I just hear shots," Butler told WFSU. "I see the girl right behind the tree, but I see for him (the officer) just jump out the car, swing the door open and just start shooting."
Butler says he never heard the officer who fired shots give any warning beforehand.
"I never heard 'Get down, freeze, I'm an officer' – nothing. I just heard gun shots," Butler said, adding there was another officer with the officer who fired shots. He says police attempted CPR on the woman.
Butler also says people at Leon Arms frequently gather in groups outside, and expressed concern that children in the complex could have been hurt during a shooting like the one that took place this morning.
"It could have been kids, anybody. You know, bullets don't have to hit you and stay in you. They can hit you and come out, and go somewhere," Butler said.
Revell says there are active investigations including an investigation into the stabbing homicide and an internal investigation into the officer-involved shooting. He says from what police know now, the officer reacted as they were trained.
"All preliminary findings are that the officer acted in accordance with their training," Revell said.
"I would say in normal circumstances, and again not the specifics of this case, but if an officer is confronted with someone pointing a gun at them, but in those type of situations, there's obviously not time to shout 'put the gun down, put the gun down' type of things – you're defending your life at that point."
Origional Post: 1:15 p.m.
Tallahassee police are poised to hold a press conference within the hour to address reports of a possible officer-involved shooting on Tallahassee's Southside.
Heavy police presence has been reported in the area. A message on Twitter claims officers shot an unarmed woman multiple times in the back.
IF YOU IN TALLAHASSEE I REPEAT TALLAHASSEE 🗣🗣🗣🗣🗣🗣🗣🗣 Check on your people's . These Fuck Ass Opps @TallyPD just Shot this unarmed black girl in The back 5TIMES In The projects . Not Sure if It's The Holton Street projects or basin st. 🗣🗣🗣🗣🗣🗣🗣🗣🗣🗣🗣 #WEMATTER ✊🏾

— BNONOLIMIT (@bnonolimit) May 27, 2020
City officials have not confirmed or commented on the information at this time. Chief of Police Lawrence Revell will shortly hold what a city spokeswoman called "an update."
Information from Tallahassee's TOPS map showed two active incidents around the time of the tweet--a stabbing on Saxon St. reported at 10:45 am and a weapons or firearms report a few blocks away on Holton St. just before 11:00 am.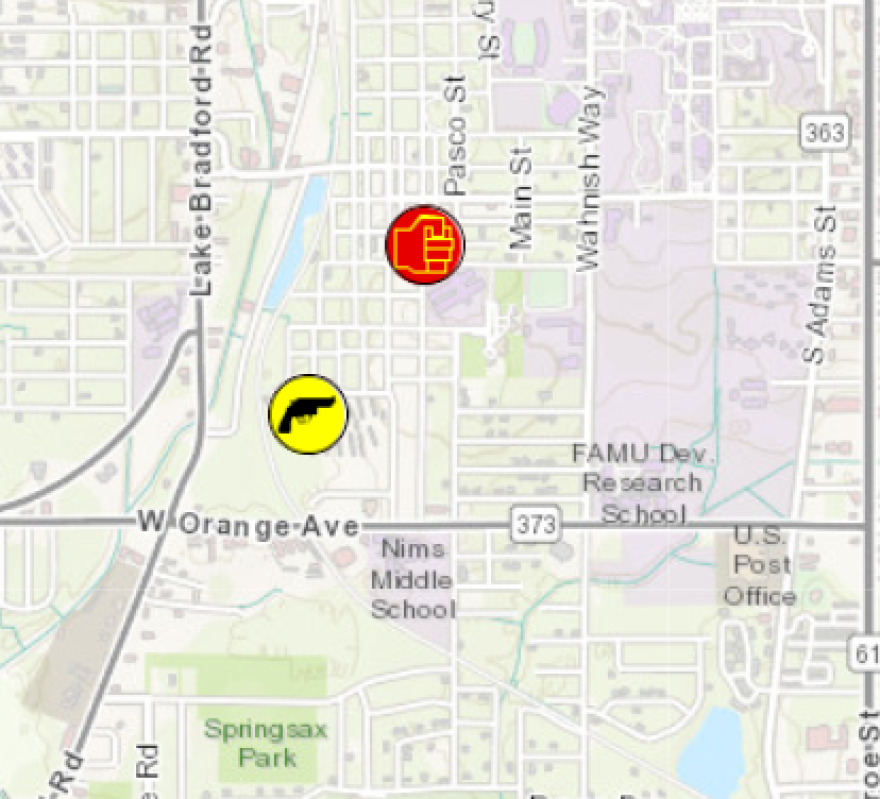 WFSU will continue to update this story as more information becomes available.