Hurricane, Tropical Storm Watches Issued For Big Bend, South GA, N. Fla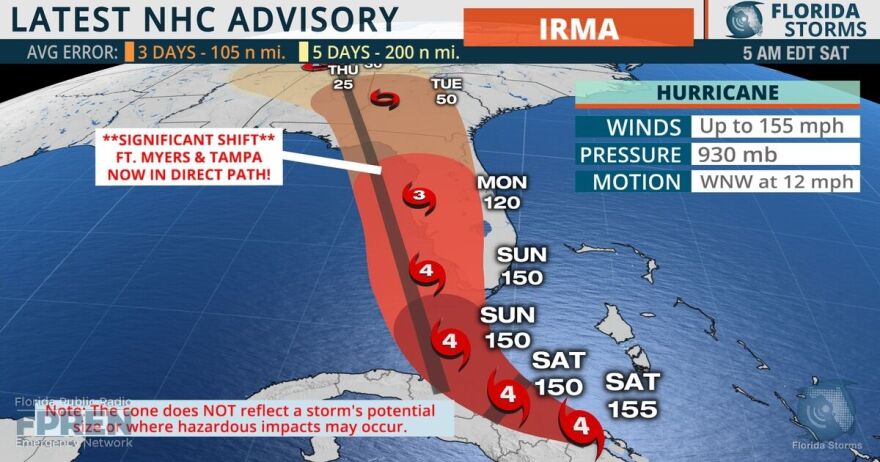 The National Weather Service has issued Tropical Storm and Hurricane warnings for the Big Bend, Southwest Georgia and the Florida Panhandle. The warnings come as Hurricane Irma creeps closer to the state, preparing to make landfall somewhere in Southwest Florida.
Hurricane Irma remains a very large storm, nearly three times the size of the state of Florida, and meteorologists are now predicting it will make a northwest turn sometime this weekend. State and local officials have warned for days that the entire state of Florida is likely to be impacted.
Watches and warnings are now beginning to extend to North Florida. As of 5:53 a.m. the National Weather Service has issued both tropical storm watches and hurricane watches for North Florida and South Georgia.
At about 6 a.m. Saturday morning, Hurricane Irma was located about 640 miles south-southeast of Tallahassee, carrying winds of about 155 mph and moving west-northwest about 12 mph.
The NWS says the storm is expected to have a significant impact across a large portion of the Big Bend and southern Georgia with wind damage to trees and power lines. Widespread and extended power outages are possible and winds of at least 40 mph may begin in the region as early as Sunday evening, with the worst conditions expected in the area Monday, with wind gusts to 75 miles per hour.
The strongest winds are likely to be east of the Apalachicola and Chattahoochee Rivers. The NWS says conditions will likely improve Monday evening as a weakening tropical storm Irma moves northward into central Georgia.
Areas under Tropical Storm Watch:
Baker, Ben Hill, Calhoun, Clay, Decatur, Early, Gadsden, Irwin, Lee, Liberty, Miller, Quitman, Randolph, Seminole, Terrell and Turner Counties in North Florida and South Georgia.
Areas under Hurricane Watch:
Berrien, Brooks, Coastal Dixie, Colquitt, Cook, Dougherty, Coastal Franklin, Grady, Inland Jefferson, , Lafayette, Lanier, Leon, Lowndes, Inland Taylor, Madison, Mitchell, Thomas, Tift, Inland Wakulla, Worth.