Rebuild 850 Is Working To Bring Awareness To Areas Suffering From Hurricane Michael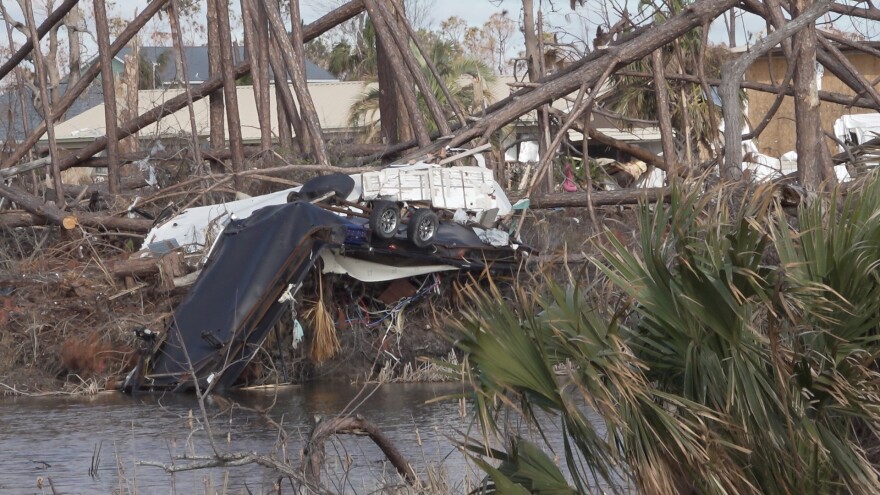 The Florida Panhandle is having a rough time recovering from Hurricane Michael, and an even harder time finding ways to fund reconstruction.
Hurricane Michael took place in October but in some areas you'd think it happened more recently.
Former Congresswoman Gwen Graham is a co-chair of Rebuild 850. She told members of the Northeast Business Association, NEBA, that awareness is needed in order to help with the rebuild efforts.
"I think a lot of people are unaware that west of us there is still so much damage, so much recovery that needs to be had. I was in Marianna as I've said multiple times yesterday. And I couldn't believe it because I was in Marianna two days after the storm, and I was in Marianna yesterday--not that much of difference," she said.
Graham says, "I hear from people all the time who need help, whose insurance companies aren't even coming close to reimbursing them for what they need."
Former Director of Florida's Division of Emergency Management Bryan Koon, has taken on the role as Director of Damage Assessment for Rebuild 850.
He says "in Michael 31,062 applications were approved, an application is a family. The total payout for that was $136 million. So that averages $4,388 per family."
He says that's not enough for most.
"You can imagine you have this fairly significant amount of damage to your home and you get a check for $4,300. That's nice. Not going to do everything you need to get back on your feet."
In order to help raise money for the area Rebuild850 is working with Volunteer Florida, whose job is to promote tourism to the area.
Graham says Panama City Beach is readying for Spring, when the area makes a lot of money from tourists wanting to enjoy the Florida's beaches.