Lawmakers Pushing For Guns On Campus Again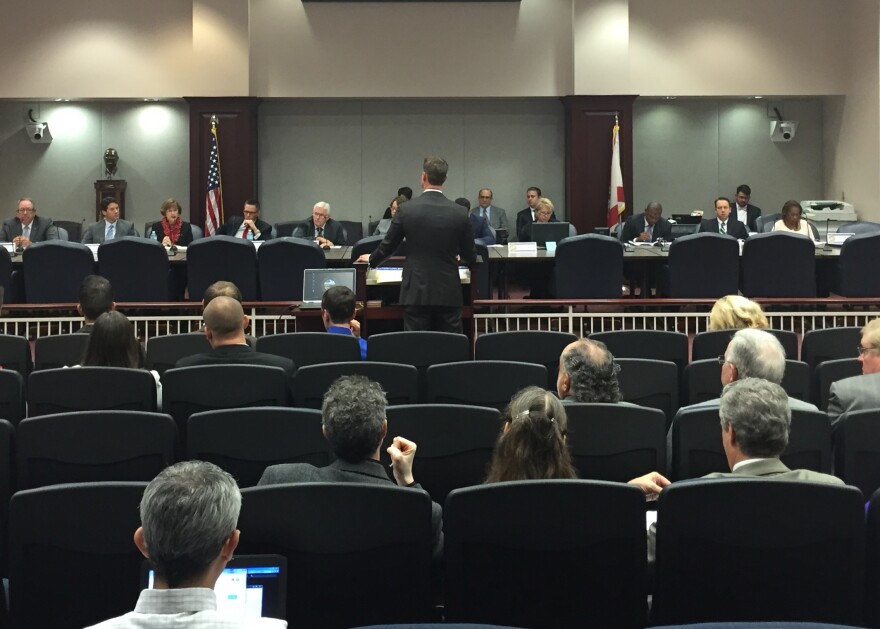 Lawmakers are trying to allow concealed weapons on college campuses again. The language is familiar, and so are many of the faces. But the bill sponsors are hoping the outcome will be different.
Same bill, different session? That was the question for Sarasota Rep. Greg Steube (R-Sarasota) ahead of Wednesday's House Criminal Justice subcommittee hearing. Again this year, he's partnering with Sen. Greg Evers (R-Baker) in an effort to allow guns on university campuses. And again the NRA, Florida Carry, and a handful of student organizations are joining them. But even if the text of the bill is identical, the tactics and tone this time seems different.
"To put this in perspective," Florida State University criminologist Gary Kleck says, "I don't think this is really a big deal issue partly because campuses are pretty safe places already, they're not totally safe, but they're pretty safe."
Kleck's not without his critics, but he's a favorite among gun rights advocates because his work suggests concealed firearms don't negatively impact public safety.
Last year, lawmakers and advocates argued guns are needed at Florida's Universities because of how dangerous the campuses are. Evers and Steube trotted out maps showing the proximity of sexual offenders and predators to campuses.
But even if Evers and Steube aren't pushing hard on the danger of sexual assault this time, that's what motivates Shayna Lopez-Rivas. She's a Florida State University student and a two-time rape survivor. She supports campus carry.
"Campus is safe," Lopez-Rivas says, "but you're not standing in my shoes."
"I resolved to never be a victim again," she goes on, "and I would feel safer carrying my gun and if I were allowed to carry on campus I would not have been attacked that night in November."
Kaitlyn Hamby disagrees with Lopez-Rivas' position. Hamby is a Florida State student as well, and she says gun violence followed her through middle and high school.
"Allowing students to carry on campus only increases the probability that I will again have to run and hide from an active shooter," Hamby says. "And please do not be fooled by the messaging that says guns will help women from being raped. This message is flawed and it does not speak for me. I will speak for myself. These bills will be arming the perpetrators, but it won't be arming me because I am not 21."
Again this year, school administrators have lined up against the measure. Tallahassee Community College President Jim Murdaugh spoke against the bill on behalf of Florida's 28 public colleges. Late Wednesday the university system's Board of Governors released a statement reiterating their opposition to the measure.
The bill passed its first two committees Wednesday, that's par for the course. In the last legislative session, the proposal flew through committees in both chambers before dying with little explanation in the Senate.