Florida Physician Deficit Being Tackled By Lawmakers, Doctors and FSU Graduates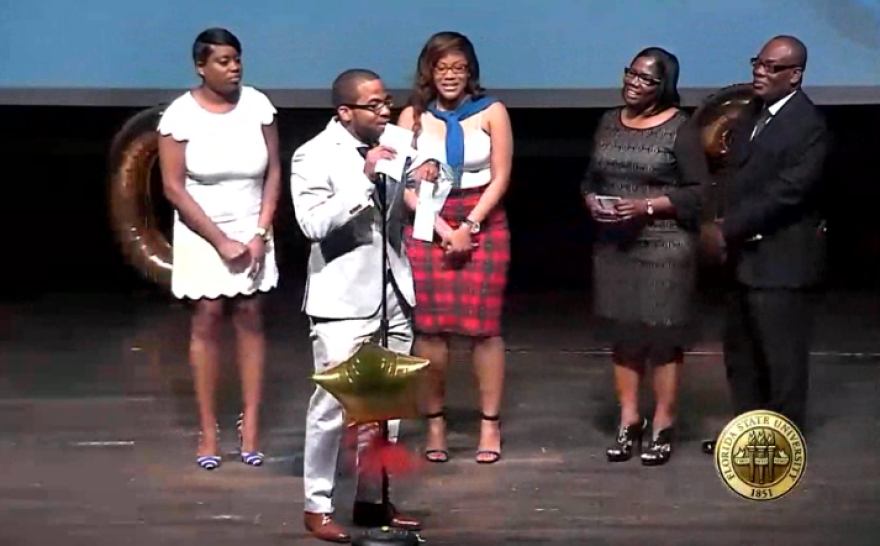 FSU Med's class of 2015 was sent off to the next step of their medical training during the college's Match Day. While the fawning graduates accepted their residency assignments with nothing but pride, the specter of Florida's low physician-to-patient ratio was still on everyone's minds.
Not a single graduate walked onto and off of the stage without a smile at this year's Class of 2015 Match Day- the ceremony where Medical School grads are assigned to facilities that they'll be going to start their residencies. Future doctor Keniel Pierre brought his entire family.
"My mom and dad are from Haiti," Pierre said in his speech. "They emigrated here in the late 80's, leaving their great jobs. My father was a professor, my mother was in her second year of medical school. She never got to have her match day. Mom, you get to have your match day today. Tell them where we're going."
The teary-eyed graduate handed his mother, Estephanie Pierre, the residency card and mic to announce it for him.
"Praise the Lord," Estaphanie said. "My son will be going to University of South Alabama Hospitals."
Many graduates are going off to other states for schooling- some as close as Louisiana, others as far north as New York.
But, every party has a pooper, and executive vice president Tim Goldfarb of Shands Health Care, summarizes what's doing the pooping.
"The bad news is that we will be at least 7,000 doctors short to meet our citizen's needs by 2025," Goldfarb said in an earlier meeting.
The shortage is nothing new. Older doctors are retiring. New ones aren't being trained fast enough. More people with health insurance also means a greater demand for services.
And the amount of graduates leaving the state, versus the ones staying here, don't help paint that picture any prettier, according to FSU Medical School dean John Fogarty.
"70 percent are going out of state for the residency," Fogarty said. "The good news, for me as a dean, is that they're matching in spectacular places. And, the better news is, in the history of 10 graduating classes so far, most of them come back to Florida because they have roots here, they're Florida residents and we expect them to hopefully come back after their training.
"We at Florida State are trying to fix that. We're starting a general surgery residency program here at TMH, we just signed an agreement with Sarasota Memorial to start an internal medicine residency, our family practice residency in Fort Meyers is going to be graduating their first class this year. So we're doing what we can."
Florida lawmakers are including funding for more residents in an effort to keep future doctors in the state. That's something pushed by Democratic Senator Eleanor Sobel, who discussed the issue early on.
"So, we need to fund those slots," Sobel said, in the same meeting as Goldfarb. "We need to bring more psychiatrists, general surgeons, rheumatologists, allergy and immunologists, and thoracic surgeons to the state of Florida."
Meanwhile, FSU grad Keniel Pierre says that, when he finishes his time in Mobile, he wants to come back home.
"I was born and raised in Ft. Lauderdale, Florida," Keniel said after the ceremony. "I'm part of the Haitian community there that I hope to come back and treat. So, even though I'm going away for residency, my ultimate plan is to return to South Florida."
Florida lawmakers are also considering bills that give other health care professionals like nurses and pharmacists, more authority to treat patients. And, lawmakers have unveiled a plan to use video conferencing to help doctors see more patients in more places.