Senators To Beer Distributors: It's Time To Play Ball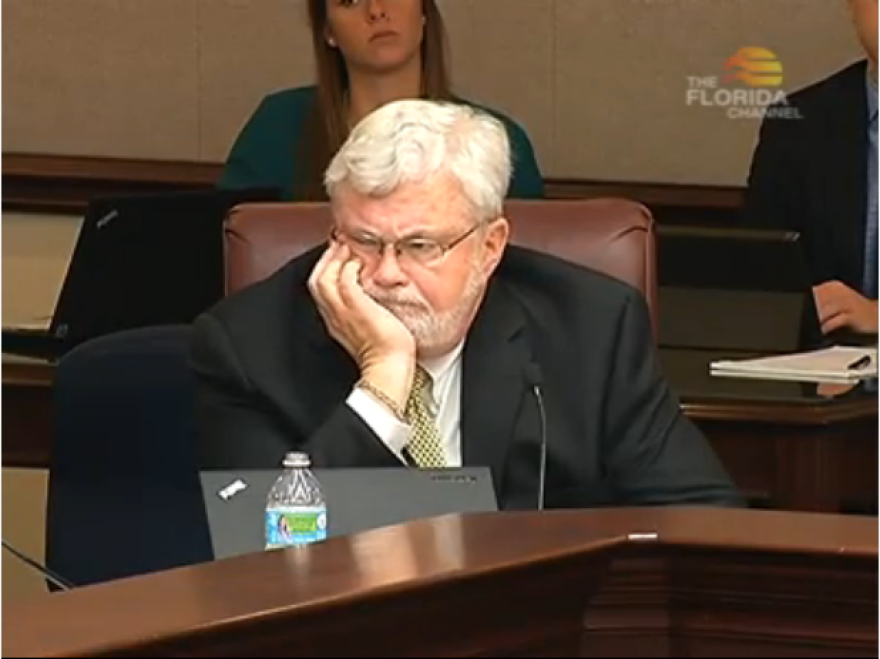 Senators are issuing a stern warning to the state's beer distributors: check your opposition at the door. Lawmakers seem determined to settle ongoing disputes between the craft brewing and distribution industries.
What craft brewers need is the ability to serve their beer where they brew it, in what's known as a tap or tasting rooms. What they really want is the growler. The 64 ounce refillable bottle is illegal in Florida, but the state's craft brewers think it's the perfect size for their growing industry.
And growlers are catching on. There's even a shop in Tallahassee called Growler Country. They specialize in filling 32 and 128 ounce growlers to-go, and Carbonell says allowing a 64 ounce growler will help his business grow.
But this fight has always been about more than just size—it's a battle over who gets to make money. The failure of growler legislation for the past three years running is largely due to opposition from deep-pocketed distribution interests. And Sen. Rob Bradley (R-Orange Park) is sick of it.
"Some of the proposals I've seen from the industry that talk about the restrictions they'd like to put on the craft industry—they're not going to fly with me, and I heard these folks today, and they aren't going to fly with them either," Bradley says.
Bradley chairs the Senate Regulated Industries Committee—ground zero for alcohol legislation.
Last year's growler bill died after an amendment pushed by distributors put a cap on how much beer could be transferred between breweries. But distributor lobbyist Mitch Rubin says they have different concerns this year.
"What do we fear?" Rubin asks, "we fear without minimum brewing levels, brewers can transfer beer brewed elsewhere in unfair competition with our retail customers."
But Sen. Jack Latvala (R-Clearwater) isn't buying the distributors' argument.
"You're talking about a minimum size? Or are you talking about a maximum size?" Latvala asks. "Because the language that you—that the committee considered last year, and that you tried to put on my growler bill last year—dealt with maximum sizes. In other words they could do it up to 10,000 barrels or whatever it was. Now you're talking about minimum size?"
Distributors fear if brewers can cut them out of the picture by opening up numerous small breweries fed by one large operation, they will. But Josh Aubuchon, a lobbyist for craft brewers, argues that doesn't make economic sense.
"I'll posit this," Aubuchon says, "if you're a manufacturer and you're selling a product that's—you're trying to get as much sales as you can—do you want to have it at 25 locations, or 25,000 locations?"
Distributors are taking the fight outside the Capitol as well. Last month, they joined an administrative challenge against the state agency that issues liquor licenses. The challenge accused the agency of granting licenses too readily under a law known as the tourism exception. It's an allowance many craft brewers rely on.
But Bradley is proposing an even more direct solution: remove the tourism exception completely, and give all brewers the chance to get licenses for onsite sales. Bradley warns change is coming.
"We're going to move forward with a growler bill this year, we're going to move forward with a tasting room bill, and we're not going to have any more lawsuits when it comes to this tourism exception," Bradley says.
And Latvala—who has been bringing this kind of legislation for years—says lawmakers are fed up with the distribution lobby's obstruction.
"This year it's up to the distributors to come to the table and bring some reasonable proposals," Latvala says. "It's not the little the guy trying to figure out how to try to pass something."
There's no real connection between growlers and the tourism exception. The only thing they have in common is that distributors just don't like them. In the past, addressing multiple issues at once has been the undoing of growler legislation. But lawmakers seem focused on putting the issue to rest.
They'll get their next chance when the committee meets February 18.