Marriage Equality Comes To Florida
This week, Florida became the 36th state to allow same-sex marriages. Tuesday morning as a Governor and an Attorney General that have long opposed the change celebrated their inauguration, same-sex couples were reciting their wedding vows just blocks away.
Right outside the Leon County Clerk's office is a small park. Tuesday morning, Ayana Powell and Rochelle Cornwall got married standing beneath one of its oak trees. It was a chilly morning, but the sun had crept up high enough to send bright shafts of light down through the branches.
But it's surrounded by office buildings. Car tires screech around the corner in a nearby intersection. There's a guy with a cigarette on a bench maybe 20 feet away, and the smoke occasionally drifts by.
But as Rochelle Cornwall recites her vows, Ayana Powell is grinning from ear to ear. Cornwall and Powell are one of the couples that came to the clerk's office prepared. Leon County Clerk Bob Inzer explains for many, the official marriage has to wait.
"So the way this works is when you get a license, the effective date of the license is three days from the date that you come in and make that application," Inzer says. "Now if in fact you provide us a certificate showing you've gone through marital counseling or if you're out-of-state residents basically the effective date of the license is today."
Powell and Cornwall had already completed counseling, so Tuesday morning they were ready to go.
But they weren't the very first couple in the county to get married in the county. That honor goes to Marcy and Rebecca MacDonell. They've been together for fourteen years. Rebecca admits she didn't really think this day would ever come. But not Marcy.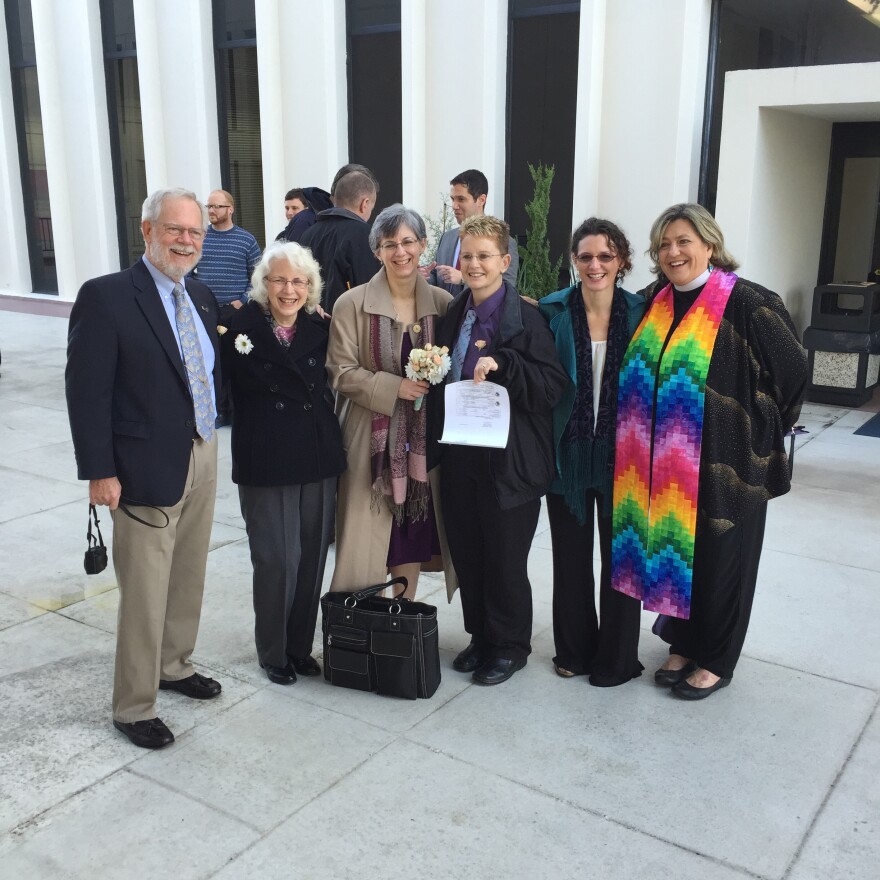 "The bible says you have not because you ask not. And I was asking," Marcy says.
U.S. District Judge Robert Hinkle's stay expired overnight Monday, allowing same-sex marriages to go forward across the state. And Rebecca says she and Marcy were too excited to sleep.
"We went to bed very late and then couldn't fall asleep," Rebecca says, "we just kept laying there and couldn't fall asleep."
And the MacDonells weren't alone.
Peggy and Raymie Brock, Susan Gage—she's now married to Isabella Potts, and Jim Van Riper and Myles Robertson all agree there was very little sleep the night before the big day.
Van Riper is a long-time city employee, and the entire city commission, not to mention a handful of county commissioners and even the local state representative were on hand to congratulate him.
Tallahassee Mayor Andrew Gillum says it's important to show support in person.
"We're the capital city, we're right in the panhandle, we're not a monolith, there are people right here in this region of the state that believe in equality and believe in fairness and believe in the law," Gillum says. "And it is the law, and we're upholding that law, and we're doing it very symbolically here today."
But on Monday afternoon, John Stemberger, president of the Florida Family Policy Council and the driving force behind the Florida constitutional amendment restricting marriages, called the process illegitimate, and said it ignores the will of 5 million voters who passed the initiative in 2008.
"I think this is not the way democracy should work, it's not the way a constitutional republic should work," Stemberger says. "The judges that have found these new rights have made them up out of thin air, they have no history they have no tradition in our country."
Gillum says he understands some people have trouble reconciling with their beliefs.
"For those who are on the other side of this issue, I hope they get with it quickly," he says, "because the truth is, I think one day they may wake up and look back and have to show some level of regret for where they stood on this part of our evolution as a society."
The irony is opponents argue same-sex marriage will somehow undermine social relationships by diminishing the importance and beauty of so-called traditional marriages. But on Tuesday morning, two Tallahassee women turned an unassuming park surrounded by blank white office buildings, with cigarette smoke and rumbling cars into something truly beautiful.
As Ayana and Rochelle recited their vows, someone performing at the inauguration two blocks away was singing. The song was surprisingly apropos: America the Beautiful.