Outgoing Senate President On Unfinished Business: 'There's Always Next Year'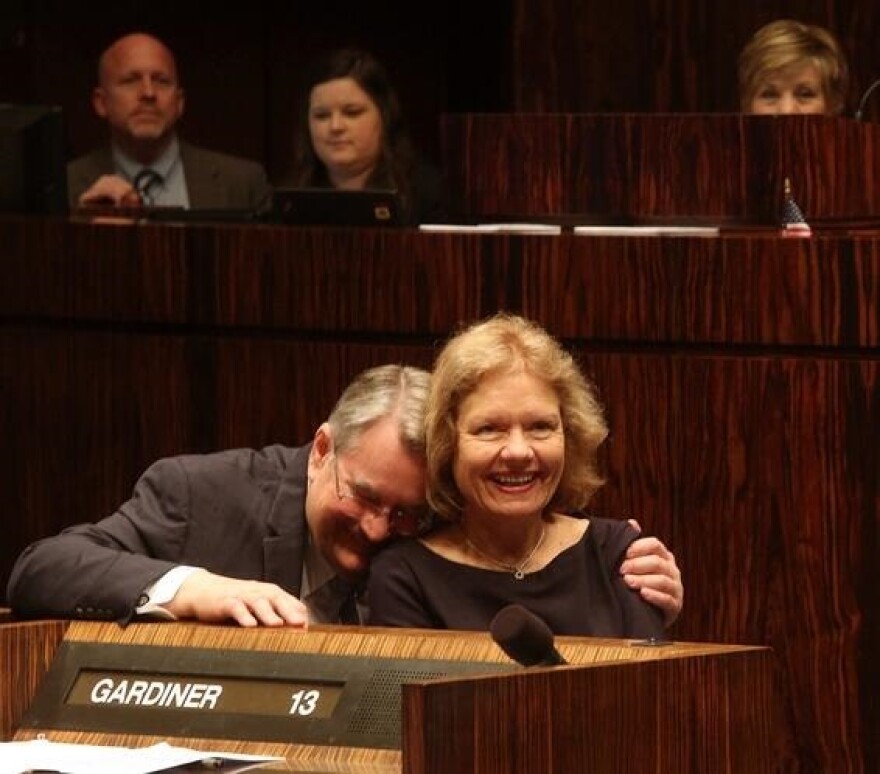 Even with dozens of bills left on the agenda, the Florida Senate on Monday devoted hours to honoring outgoing Senate President Don Gaetz. Gaetz reflected on the chamber's proudest accomplishments since he took the helm last year.
Before an audience of senators, lobbyists, reporters and family members, Gaetz took his spot at the Senate lectern for what will be one of the last times.
"I've made a thousand mistakes, and I ask your forgiveness for any slight or any offense," he said at one point in the speech.
He also thanked his Senate colleagues for what he says is the honor of a lifetime.
"An old athlete was asked how he wanted to be remembered. 'I know I wasn't the best,' he said, 'but I loved the game and I played my heart out. And I just hope people will think I was one of the good ones.'"
As the Legislature does for all presiding officers at the end of their terms, the Senate unveiled Gaetz's official portrait. In it, he's holding a piece of legislation. Gaetz says when the artist came to his office, he doesn't remember which law he grabbed to pose with. But he told senators he knows it's one of the two of which he's proudest.
First: "You unanimously passed what has been praised as the most sweeping ethics reform in state government in 38 years. And now this year, this senate has gone further by unanimously extending tough, clear open-government and ethics laws to local government and those who act in lieu of government."
And then, he says, there was the state's investment in technical certification programs. As Gaetz said many times during his two-year term, the state's educational system should be lashed to the needs of the economy. He says, because of the Legislature's action, more than 270,000 students are pursuing professional certifications in the fields that need the most workers at Career and Professional Education, or CAPE academies.
"Ninety-nine percent of CAPE students are finishing and graduating from high school, and they're graduating with higher GPAs and they're getting jobs with higher pay than their peers," he says.
In the background of Gaetz's portrait are both the flag of Florida and the flag of his native North Dakota, where his father was a state lawmaker.
"Two-thirds of the people in this state arrived from some other state or some other country," he says. "Florida is natives, but mostly—mostly—Florida is newcomers. Transplants. Immigrants. Here by plan or here by luck. And that's who I am. I'm a lucky guy."
Last week, the Senate voted to allow undocumented immigrants to practice law, with Supreme Court approval. And still ahead of the chamber is a proposal to give those same students, brought to Florida illegally as children, the in-state college tuition rate. But Gaetz has said he can't support subsidizing education for people in the state illegally.
The immigrant tuition bill one of a handful of hotly debated measures that could come up for votes this week—or not.
"The fact that we have unfinished business—that just means there's always next year, or that's why they make next year," Gaetz told colleagues Monday.
Maybe contentious issues will have to wait for another president to take the gavel. Sen. Andy Gardiner (R-Orlando) is about to begin his two-year term next.