For Pro Life Advocates, The Issues Are Both Personal And Political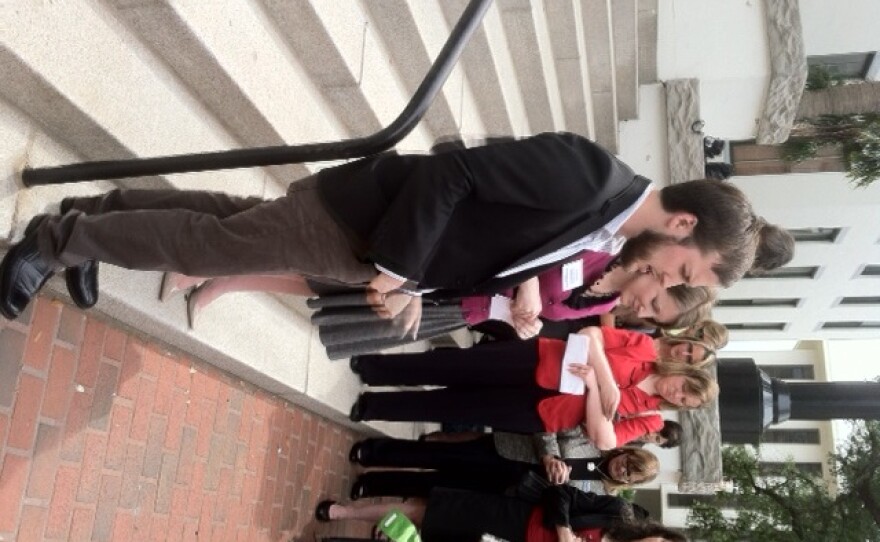 Supporters of the pro-choice movement rallied earlier in the session to oppose bills they say amount to attacks on women's rights. As debate on the proposals unfolds for the second day on the House floor, supporters of the Right to Life movement marked the occasion with a somber ceremony and personal stories, and a more subdued presence at the Florida Capitol.
Thursday was Right to Life Day at the Capitol, the event coming as Florida lawmakers in the House debated and passed bills dealing with race- and- sex based abortions, and crimes against pregnant women.
Outside the House Chamber, and in the breezeway of the old and new Capitol buildings, a small gathering of about 40 people hold a prayer rally. For 28-year-old Crystal Allen, the decision to put her last two children up for adoption was life-changing. She had her first child when she was 15 and at the time found support in the Leesburg Pregnancy and Family Care Center. After having two more children with her then-husband, she learned she was pregnant with a fourth, conceived while at a prison work release center.
"I chose it in a bad situation. I went to prison...I made some bad choices in life, but I really believe that getting pregnant and being pushed into a corner...I didn't know where to go or who to talk to," she said.
Last year Allen found out she was pregnant again, and says, she didn't know who the father was. Her addiction got her sent back to jail, and then to rehab. Allen says she went back to the Leesberg Pregnancy and Family Care Center. She again chose adoption—placing her daughter, with the same family.
"You can choose life for other people. If you can't handle the resentment from conceiving from a bad situation. I couldn't. I wanted to take care of the children I had and my husband and I wanted to be married and back together, and he chose to stay with me through all of this."
Allen says the decision to place her children with an adoptive family changed her life. Votes on legislative proposals dealing with women's health issues often fall on party lines. But one bill brought widespread agreement between Republicans and Democrats. The bill, by Republican Representative Cary Pigman, would require children born alive after a botched abortion to receive medical treatment. It's something that Penny Hopper says is close to her heart. Because she says, she believes she was one of those children:
"Under the doctor's orders, I was wrapped in a face towel, discarded on the back porch of the hospital and was left there. My grandmother came down the following day and found me. She was livid. She didn't expect to walk back there and find a live baby. I weighed 1 lb, 11 ounces."
Hopper says she has an older brother, and her father, brought up during the great depression, had severe misgivings about having another child. Hooper's parents had aborted a child before her, and because of that, she says she believes it was a botched at-home abortion that sent her mother to the hospital while pregnant with her at around 23 weeks. It was there where the doctor induced labor. Hopper says from what she's been told by her family—that doctor may have tried to abort her, again.
"The doctor told my parents 'you don't want this baby to live. You'll regret it. It's going to be blind or mentally brain damaged.' My dad desperately didn't want me to live. I think because it would have been in his face."
Through it all, she survived. And a year after her birth, her mother held her for the first time. Hopper says her parents were good parents, despite divorcing when she was 15. And when her father died, he told her he didn't know what he would have done without her.
Hopper was born in the 1955, when abortions were done at-home, and out-of the public eye. Representative Pigman, who is an emergency room doctor, says there's no way to track how frequently these things happen, but his proposal would give the state a mechanism to start tracking the occurrence. That proposal is heading to the governor.
Thursday the Florida House okayed two more pro-life bills. The crimes against pregnant women bill cleared the house on a mostly partisan vote with Republicans in Support and Democrats against. Critics say the proposal could chips away at women's abortion rights. Republican Representative Dennis Baxley says that's not the case.
"We're not talking about choice today of the mother. We're talking about a third person who commits a felony against that person and takes a life," he said.
In another partisan vote, lawmakers okayed a bill prohibiting abortions based on gender or race. It requires abortion providers to sign an affidavit. Critics say the bill doesn't address stopping abortions and may only lead to harm to pregnant women.
For more news updates, follow Lynn Hatter on twitter @HatterLynn