Panthers Claw For Space In Crowded Sunshine State
Following a successful breeding program in the 1990s, Florida panther populations are recovering from historic lows. But with more cats, come more complications.
Florida panthers are known for their tawny coat, stealth and dangerously low population numbers. But the cats weren't always limited to the sunshine state. Puma, cougar, mountain lion, this cat has many names and once roamed the Western Hemisphere from Tierra del Fuego to the Arctic Circle. Kipp Frohlich from the Fish and Wildlife Commission says the cats once reigned from the top of the food chain, but they were no match for human civilization.
"They were really found everywhere originally, but over hundreds of years they were persecuted, shot, trapped," he said.
But after years of struggle, these cats are making a comeback, and have some loyal admirers. Mike Jones, Animal Curator at the Tallahassee Museum, says they even purr.
"The puma is the largest of the purring cats because of the way their vocal chords develop, they ossify. And they don't have as much travel, they don't move as much, so they aren't able to roar," he said.
And Jones should know. The Tallahassee Museum just got two Texas cougar kittens. And while they are not Florida Panthers, they are closely related. In fact Texas cougars played a pivotal role in revitalizing the Florida panther population. Isolated in South Florida, the panthers struggled with inbreeding and genetic defects. Kipp Frohlich says the introduction of female Texas cougars into the inbred population made all the difference.
"And that worked great. Since 1995 the genetic health has really improved, numbers have been steadily increasing," he said.
A population that once dwindled to the 30s grew to an estimated 180. Many call the breeding program a success, bringing panthers back from the brink of extinction. But Mike Jones says a larger population does have consequences.
"I think that's one reason that we see a high highway mortality. It's the most we've had killed, over 30 this year have been hit by cars. And I think that's a good indicator that there's more of them out there," he said.
Just this week another panther death was added to Florida's record breaking mortality figure. Many of the panthers are killed along Alligator Alley, a stretch of I-75 in South Florida. But steps are being taken to prevent more deaths. A system of tunnels, underpasses and fences are in place to divert and protect wildlife. Earlier this year, the Department of Transportation pledged to add more fencing along Alligator Alley. Nancy Payton with the Florida Wildlife Federation says this infrastructure saves lives.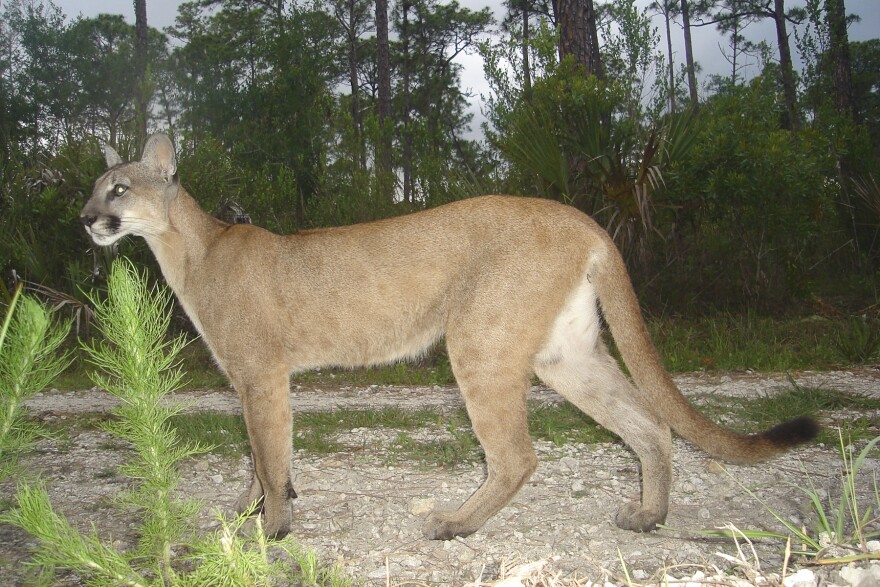 "And where the fencing and the underpasses are, there have been almost no deaths along that stretch of road," she said.
There are other growing pains as well. FWC is working to limit panther depredation, that is, loss of livestock, and even pets to the big cats. Nancy Payton says the goal is to find a balance between human and feline Floridians.
"Florida panthers are an iconic Florida symbol. They are the state animal and we should be making room and accommodations for them. But we also have to be responsible about the interaction between panthers and other wildlife and human beings," she said.
Back at the Tallahassee Museum, staff members hope these Texas cougars will play another role in the plight of the Florida Panther. Museum CEO Russell Daws says the cats can bring the issue new life.
"How can we get people to understand the value of wildlife, wildlife diversity and bio-diversity? And the role that history has played in that as well as our decisions that we make on a day to day basis," he said.
The Tallahassee Museum's cougar exhibit opened to the public on Friday December 18th.