Florida Officials Support Trump At RNC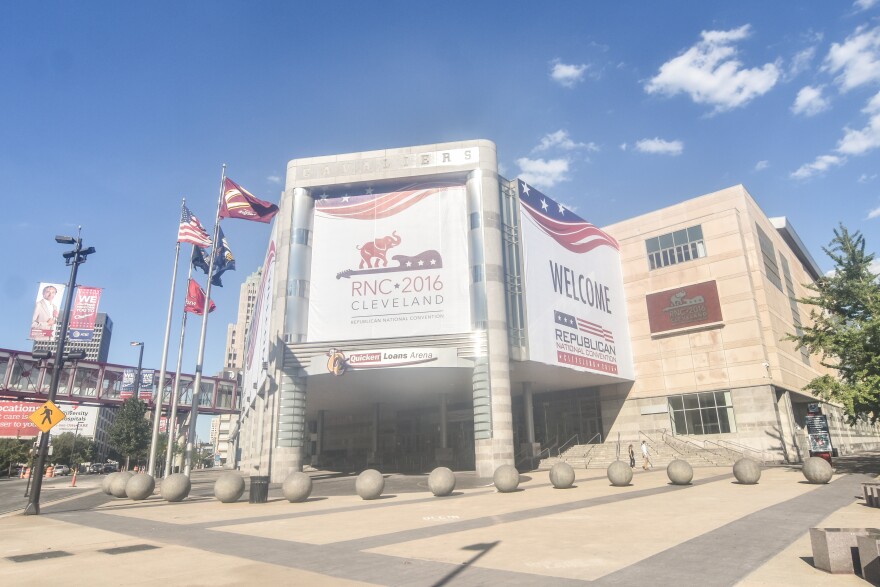 After a bruising primary, the GOP has officially settled on Donald Trump to lead the party into November. Elected officials from Florida—likely one of the most important swing states come Election Day—were out in force to support the Republican candidate.
Back in March, Donald Trump dominated a four candidate field in Florida's Republican presidential primary—winning every county but Miami-Dade. On the eve of that primary, Florida attorney General Pam Bondi endorsed Trump. At this week's Republican National Convention, that allegiance translated into a plum speaking gig.
"November 8 is a day of reckoning," Bondi warned, "for all those who have abused their power."
"It's the day when 'We the people' will take back our government."
And Florida's top prosecutor made a pitch based on the next president's impact on the U.S. Supreme Court.
"I know Donald, and I am proud to know Donald," Bondi said. "He will appoint conservative justices who will defend rather than rewrite our constitution."
Trump's big win in Florida led to an endorsement from Governor Rick Scott. At the time he said, "The voters are speaking clearly—they want a businessman outsider who will dramatically shake up the status quo in Washington." It's a story that could just as easily describe Scott's own rise in Florida.
Wednesday night, the governor returned to that theme.
"I have some great news," Scott said. "This is the time America has been waiting for. This year we get to fire the politicians."
But Trump's primary win had a different kind of fall out, too. When Republican presidential hopeful Marco Rubio couldn't muster a win in his home state he chose to back out of the race. Florida's junior senator has withheld a formal endorsement of Trump, but in a video address he explained why he'd vote for the Republican over a Democrat.
"Hillary Clinton does not have the honesty the courage or the independence to be the president we need for the next four years after the president we've had for the past eight," Rubio said. "But unlike Hillary Clinton, Donald Trump is committed to cut taxes, curb spending and get our national debt under control. Unlike Barack Obama and Hillary Clinton Donald Trump takes seriously the threat from Islamic radicals and is committed to rebuilding our military."
And the triumvirate of Florida officials piqued the interest of some viewers.
"Did Rubio endorse trump spiked 1800 percent after his speech," Google Data Editor Simon Rogers says of Marco Rubio. "People were trying to look for his speech to see what happened."
"With Rick Scott there was a big spike in Florida for searches for his approval rating," Rogers says, "and also with Pam Bondi it was much more people asking actually basic questions I would say around her like how old she was and what she's said about Trump."
But he says their remarks—all coming on Wednesday night—were overshadowed by another U.S. Senator wrestling with endorsing Trump.
"Last night was really all about one person," he says, "and that person was Ted Cruz."
But Senator Cruz's party-over-candidate sermon did little to derail the proceedings. Trump accepted his nomination Thursday night with speech long on dark themes, but short on explicit policy. Fact checkers—as they have throughout the race—poked holes in many of Trump's claims, but those corrections have yet to temper the fervor of his most ardent supporters.